R-CORE – Why did we form?
Last year in the spring and summer of 2018, union members across Washington State were given an opportunity to create life-changing contracts through collective bargaining in nearly every single local bargaining unit. Many Renton Education Association [REA] members found themselves using our critical thinking skills to begin solving a list of problems. We wanted more transparency about bargaining information and needed organizing support. We were concerned about how we could act in solidarity between all bargaining units.
The picture below describes where many REA members found themselves. Please see the left side of the image. While our classified bargaining units were bargaining and communicating together, many REA members were feeling we were on "shaky footing". We began trying to move our members to sure footing as shown on the right side of this image. R-CORE is attempting to create a strong organizing foundation for all bargaining units in the Renton School District.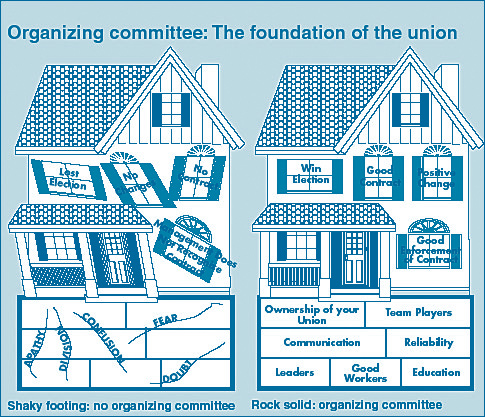 Several R-CORE members – including members from REA and RESP – joined Barbara Madeloni and other local caucus members including members from Seattle Equity Educators [SEE] and WEA State Caucus leaders from the WEA Black Caucus, as well as the WEA BAT Caucus on Monday, April 8th. One of the goals of the meeting was to learn from one another. We discussed how we grow union power toward a more rank and file democratic transparent union? Further opportunities will be announced in the future as UCORE provides support for us locally.
R-CORE: Who Are We?
We organize to create the union and schools that our members, students, families and community deserve.
We are the Renton Caucus of Rank and File Education-Workers. Members of RESP, RPTA, AFT, REA, SEIU, and PSA/PSESD (Renton only), who are committed to the following vision and guiding principles are welcome to join.
R-CORE's Belief Statement and Guiding Principles:

We believe that by organizing to build power at our schools and within our unions, we can successfully advocate for the public schools our students and community deserve.

We commit to organizing for:

• Equity for ALL
• Coordinated RSD bargaining units
• Anti-racist practices
• Transparent communication at all levels
• Community well-being

A more in-depth Mission Statement can be found here.
If you want a more democratically run union with empowered members who are focused on racial and social justice, transparency and solidarity between bargaining units, then R-CORE is the right place for you. If you want to help create the union, schools and community we all deserve – then R-CORE is the right place for you! Please join us!
R-CORE: How Do You Join?
Social Media, Outreach, and Communication:
We have a social media presence through several platforms, each with different purposes in attempt to provide transparent and effective communication in multiple ways to include members in two-way communication opportunities.
For public updates and news related to education in general and Renton specifically, please like and follow us at [click on links below]:
If you are a member of RESP, RPTA, REA, AFT, SEIU, or PSA of PSESD and agree with our belief statement and guiding principles, and if you would like to become a member of R-CORE, sign up for membership here.
If you are a parent or community member who wishes to support our local Renton students and educators through social justice unionism to create more democratic schools and an empowered community, sign up for membership here.
If you sign up above in the links provided and thereby agree to our mission statement, we will add you to our email and text [coming soon] listserves for communication. We will not share your private information and will limit communication to respect your time.
We look forward to working with you to meet our mutual goals.