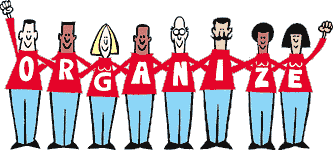 U-CORE [United Caucus of Rank and File Educators] has a list of resources for organizing here.
Labornotes is a publication for labor organizing.
"The difference between a truly democratic union and one that follows a servicing model is stark when it comes to grievance handling. In a strong democratic union there may not even be many grievances; members organize to convince supervisors to stop violating the contract without having to use the formal procedure.
A BATTLE FOR EVERYONE
In the servicing model, the member is not encouraged to get involved but to turn the grievance over to the "expert." Even in unions that seek member mobilization, the service model of grievance handling prevails: members may be mobilized to act for certain grievance issues, but they take no leadership role—no responsibility or initiative.
But a different approach is possible:"
Read more here on how to empower ALL members:
How to Use Grievances to Organize | Labor Notes
#DemocraticUnions #Organizing #UnionStrong #StrongerTogether